Willcom partners with the network industry experts:
Accedian is the leader in performance analytics and end-user experience solutions, dedicated to providing our customers with the ability to assure their digital infrastructure while helping them to unlock the full productivity of their users. We are committed to empowering our customers with the ability to see far and wide across their IT and network infrastructure and a microscopic ability to dive deep and understand the experience of every user, helping them to delight their customers every time. Accedian has been delivering solutions to high profile customers globally for over 15 years.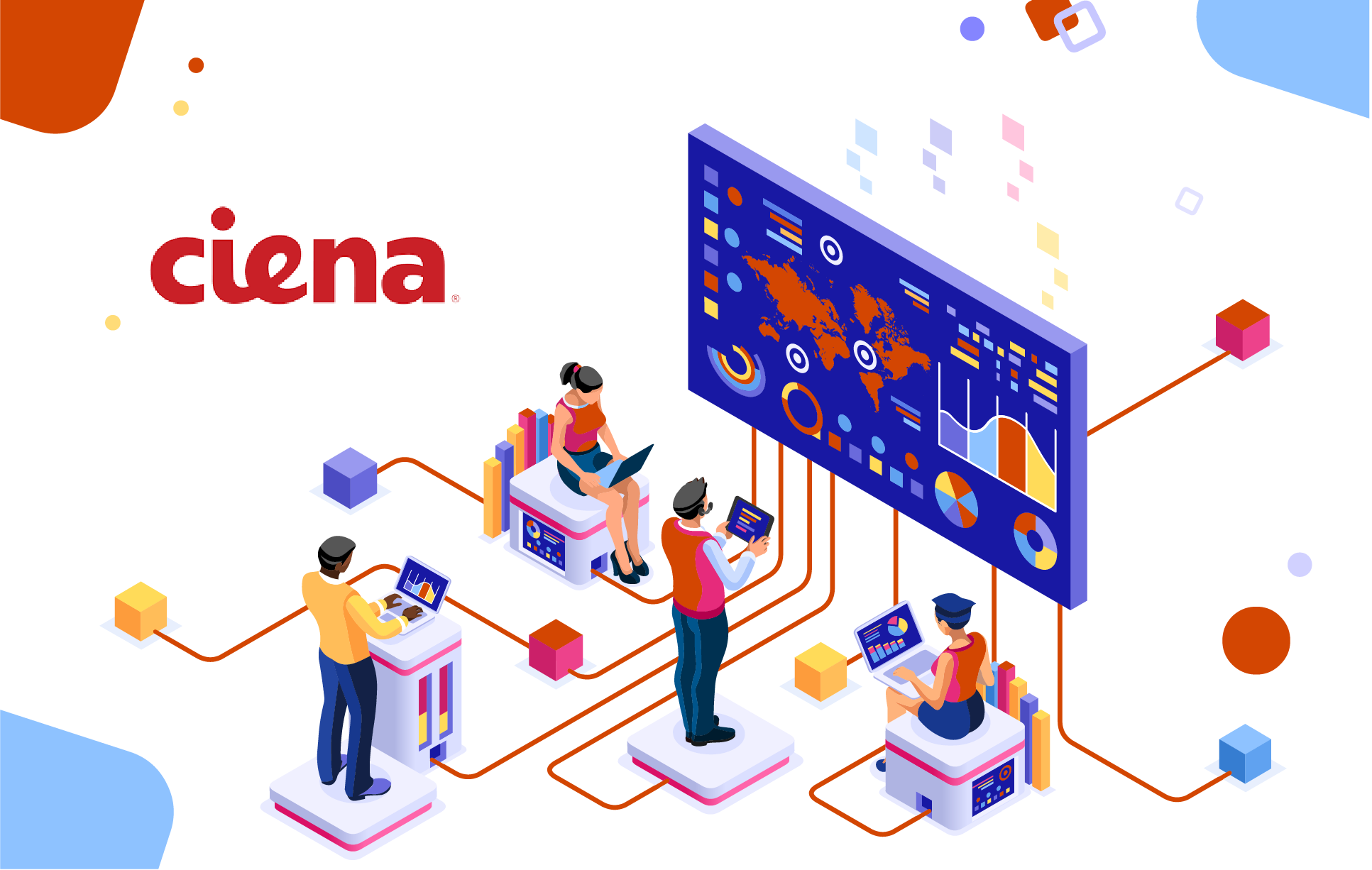 The volume of data is exploding, end-user demands are skyrocketing, and legacy systems are struggling to keep up. Networks require a transformational change. To harness this exponentially increasing complexity, you need a network that can adapt to the environment quickly. Ciena is delivering the next-generation network with the Adaptive Network. Built on the most responsive infrastructure in teh business, Ciena's Adaptive Network lets you command complexity by combinign intelligent automation, real-time analytics, and the ability to tune a scalable programmable infrastructure. Automation is key for meeting customer expectations. But fragmentation, complexity and a lack of visibility stops you from unlocking its true potential. To improve operational efficiencies and deliver flawless services, you need a clear, unified view or your inventory.
Blue Planet is a division of Ciena that is on a mission to change the industry, not just a single network. With a focus on intelligent automation software, they are breaking down the barriers between IT and Network to accelerate their clients' digital transformation journeys.
Blue Planet takes a giant leap forward with a container-based micro-services software architecture that incorporates advanced modeling, templating, and orchestration methodologies to provide a scalable, vendor-agnostic, highly programmable software platform. This modular and extensible approach enables network operators to automate the lifecycle of differentiated new services that can be deployed across multi-vendor and multi-domain environments and scaled on demand. The result is a dramatic transformation of not just how services are delivered, but how networks are operated.
Optimising the networks of the world
Calnex is the experts in test and measurement. With their products, network equipment and component manufacturers, as well as network operators, they can prove their products and services meet the rigorous international standards required to deliver flawless wireless and wireline communications around the world. Calnex solutions design, produce and market test instrumentation for three market segments: network synchronisation, network emulation and high-speed optical module testing. They have over a decade of experience in the test and measurement industry, producing high-end solutions that are as innovative as they are effective. On all continents across the globe, Calnex provides test solutions for Network Operators, Network Providers, system suppliers, labs and companies developing clocks and high-speed components in applications such as 4G/5G mobile infrastructure, industrial internet, video transport, security, enterprise and SD-WAN. Calnex was named the 2015 winner of the Queen's Award for Enterprise for International Trade, the UK's highest accolade for business success.
"We help ensure telecommunication systems have a future." – Tommy Cook, CEO at Calnex
Executing network timing and synchronisation without skipping a beat
Oscilloquartz was founded in 1949 in the heart of Switzerland's watchmaking region. Since then they have become a world leader in the design and manufacture of high-quality network and application timing technology. Together with their parent company, ADVA, they offer a smooth migration to the next-generation frequency and time synchronisation. Oscilloquartz is the only vendor in the market place to work hand-in-hand with the industry to find unique methods of meeting the growing challenges of precision timing. Their comprehensive portfolio delivers timing and synchronisation technology wherever it is needed and provides a clear synchronisation path to 5G.
Spirent is leading the way in testing, assurance, analytics and security to assure the capabilities and performance networks, network equipment, devices and services. Spirent provides expert guidance and methodologies to help our customers find clarity in the face of complexity, overcome the challenges of a fast-approaching future, and ultimately deliver on their promise to their own customers. Spirent's Networks and Security segment aims to maximise the potential from the virtualisation of networks and the over-arching demand for security. Spirent's Lifecycle Service Assurance segment addresses active testing, analytics and automated test management in production networks. Spirent's Connected Devices segment serves the future inflexion in this market in the development of 5G wireless and the Internet of Things.
"Our customers operate in markets characterised by relentless traffic growth, ever-increasing security challenges and continual pressure to innovate while generating revenue and managing operating costs. Our testing and measurement capabilities are needed now more than ever to assure our customers can deliver on the promises they make to their customers to keep them safe, secure and connected." – Spirent Annual Report 2018
100% Secure Erasure & Diagnostics for Smartphones, Laptops, Loose Drives, Servers and more
Whether by accident, or through negligence: Don't be the one responsible for leaking another individual or your organisation's confidential information.
Until recently, there had been little emphasis on the importance of securely wiping data from end-of-life IT assets. It was widely believed that reformatting drives or performing a factory reset on mobile devices were adequate and reliable methods to permanently erase data when IT equipment reached their end-of-life.

However, these data removal methods are not sufficient and leave residual data easily accessible and susceptible to loss/theft. As a result, individuals and businesses risked both highly confidential, personal and corporate data from being recovered from end-of-life devices.
More recently, tighter regulations around data protection, such as the introduction of Europe's GDPR and South Africa's PoPI, have meant increased pressure on IT Asset Disposition providers to provide secure erasure solutions to meet their clients' privacy requirements.
Blancco is the industry leader in device data erasure and mobile device diagnostics software. Thousands of organisations turn to Blancco to add an additional layer of security to their security policies by utilising the groundbreaking data erasure solutions.
All erasure of IT assets are 100% secure and verified/certified through a tamper-proof audit trail. The level of compliance at Blancco is unmatched in the market since no other data erasure software has been scrutinised as rigorously by government agencies, legal authorities and independent testing laboratories.
Other solutions such as Blancco Mobile Insurance, Blancco Mobile Buy-back/Trade-in and Blancco Mobile Retail; enable mobile outlets to conduct real-time valuations on mobile devices. Therefore, an organisation can determine the value of a device with consistent, accurate and measurable testing solutions, including the market-leading cracked-glass detection.
The future is here. At Scale. With Ease
Cloud computing, internet of things and 5G mobility are key technology trends shaping our communities as we head into the 2020s. At the core of these trends lie the networks that power the digital societies. FusionLayer helps service providers and enterprises to automate processes that touch networks. This is accomplished with cutting edge technologies that function as the unified management system for all network-related information. FusionLayer has been working in the DNS, DHCP and IP Address Management (IPAM) space since the 1990s. The goal of FusionLayer is the help data centres and service providers in automating all the workflows that touch networks. They pledge to maximise the productivity of the world's best software-defined IPAM solutions that enable interoperability between the existing networks and cloud stacks and provide real-time visibility into all networks under management.
Everyone, Everything, Everywhere: Connected
The Calix mission is to connect everyone and everything. Calix platforms empower their customers to build new business models, rapidly deploy new services and make the promise of the smart home and business a reality. Innovative communications service providers rely on Calix platforms to help them master and monetize the complex infrastructure between their subscribers and the cloud. Calix is the leading global provider of the cloud and software platforms, systems and services required to deliver the unified access network and smart premises of tomorrow. Their platforms and services help customers build next-generation networks by embracing a DevOps operating model, optimise the subscriber experience by leveraging big data analytics and turn the complexity of the smart home and business into new revenue streams.
Would you like to receive more Information?
Our team is ready to help